We are a multi-disciplined professional workplace consultancy specialising in providing built environments for our corporate clients. Whether you are moving or refurbishing existing space, we provide a business consultancy led approach to interior design and fit out.
Workplace Consultancy Glasgow Edinburgh LOndon
The first step in office fit out starts with workplace consultancy. At Amos Beech we take the time and effort to really get to know your company and employees' needs and requirements.
We carry out extensive pre-construction planning to understand your project in every detail. For instance, you may be thinking of relocation but perhaps, after talking to our team of experts, it transpires that you could make smarter use of your existing office space – thus potentially saving money.
The reason why people should talk to us is that we look at the whole process without any gaps in the chain. Being the main contractor, we are the one point of contact and are pro-active with any project changes.
How much space do I need?
In the past, this question used to be settled easily. You'd think about how many employees you have, assign a certain area per employee desk, multiply the two numbers and then add some space for conference rooms and restrooms… READ MORE
Moving office or refurbishing?
Tough question, right?
Moving to a new office entails a lot of stress. You need to find the right real estate agency to help you find the right property. Refurbishing isn't that easy, either. The main challenge… READ MORE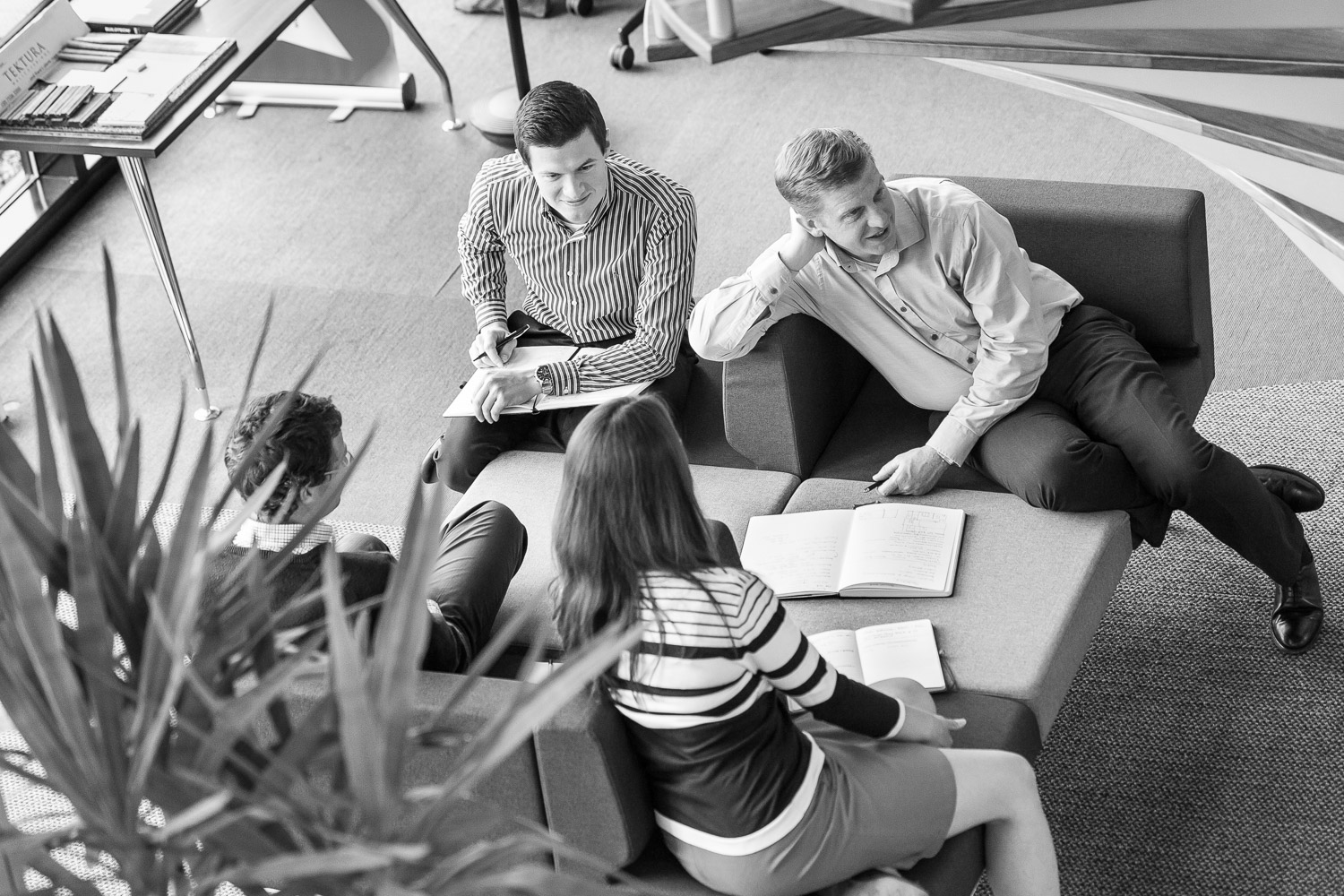 A workplace in line with culture and brand?
When you say office design, you probably think about furniture and spacious meeting rooms? But there's one thing that often gets overlooked: the importance of branding in interior design… READ MORE
Attracting and retaining talent?
Today's workforce don't look for work-life balance, they simply want to enjoy themselves wherever they go... READ MORE
Do you need an architect?
Having an architect can be essential, especially for renovation jobs. But sometimes you do not need an architect… READ MORE
Our method statement enables us to keep you up-to-date every step of the way with any changes and it's important that we develop a good working relationship with you.
As a workplace consultancy, we have a commitment to quality and one of our key strengths is that by having a beginning to end process we are control so there's no communication or performance gaps.
It's all about streamlining and getting the best result for our clients. Our site manager in either Edinburgh or Glasgow is in direct communication with the interior design team so we have your best interests at heart and we do our best to ensure that any changes required during the project process are made in close consultation to avoid unnecessary costs.
Our office fit out and refurbishment service includes a full building survey which incorporates building regulation requirements.
We work with you on a daily basis to ensure you are fully informed regarding the project's progress and that staff feel included and consulted during the whole process. For example, staff have the chance to choose from our range of office furniture.
When it comes to office visualisation our talented interior design team produce fantastic 3D design concept visuals so you are able to see for yourself how your project will look complete with your branding, colour scheme and bespoke office furniture.
Working as a close-knit team team we believe in giving our clients the very best workplace consultancy Edinburgh service and expertise available.
Before the construction process even begins there is extensive conceptual designs and workspace planning.
We rarely find ourselves in the situation of having time penalties during a project as we offer realistic completion dates.
At Amos Beech we also provide the following services - space evaluation, office interior design future needs projections, filing audits, office furniture consultancy, interior design, quantity surveying, office refurbishment, all-trades contracting, office furniture supply and installation to the final handover.
As a workplace consultancy working in Glasgow, Edinburgh and London, we put the customer first and work with you on a daily basis to ensure you are fully informed regarding the project's progress and that staff feel included and consulted in the whole process – for example staff have the chance to choose from our extensive range of office furniture.
We can help choose the right office furniture that complements your space and we can give guidance on commercial interior design.
We also help take the stress out of preparing for the move with our office relocation service. Our experienced removal company will be there for you every step of the way to help with providing personal crates and specialist removal services.
We provide this service, as well as the physical completion and finishing touches, by placing personal crates at the right workstations ready for staff when they arrive at their new workspace. We can also arrange for any office partitioning to be placed in you new office refurbishment.
Workplace Consultancy Edinburgh Glasgow London
Thinking about Agile Working? Want to measure Office Occupancy accurately? Visit this page: